When my son was born, I knew that I was going to breastfeed him and It was the most amazing experience of my life. At his 6 months checkup appointment the pediatrician told me that my little guy is ready to start eating baby food. Instantly many questions popped up in my head:
What is baby food?
Should I make baby food or buy it?
What are the pros and cons of homemade and store bought baby food?
Does store bought baby food taste good?
Are there any rules that I should know?
Let's take an closer look at each question.
What is Baby Food?
Description of baby food is very simple: it is any soft, easily consumed food, other than breastmilk or formula that is made specifically for babies. Baby food can be homemade or store bought and in both cases, it has many food options.
Homemade Baby Food
If you're not pressed for time, feeling motivated and like the idea of doing it yourself, (as I did), homemade baby food will definitely be your choice. Just be sure you understand what you're getting into and take in to consideration all the pros and cons of homemade baby food.
Pros
You know exactly what goes into the food
It has better nutrition
You have a larger varieties of food available
It saves money
The baby gets to eat the same food as the rest of the family
You can make it and freeze it
Cons
Takes more time to prepare
It takes up room in the freezer and fridge
Store Bought Baby Food
If you are working parents and have a busy life style, you may consider using store bought baby food.
Pros
It's convenient
Meets strict safety guidelines set by the US Food and Drug Administration
Can be saved for a long period of time
Has the right amount per feeding
Easy to travel with
Cons
You don't know exactly what goes inside the food
More expensive
Contains preservatives
Nutrients may be lost due to preservatives, cooking and packing process.
Does store bought baby food taste good?
Because I am very fortunate in being able to stay at home with my son and have extra time, I was intrested in cooking my baby's first solid foods myself. My next decision was to go to the store and buy a few jars of babies fruit puree and a few jars of vegetable puree.
All the fruit flavors were surprisingly good and I recommend using all but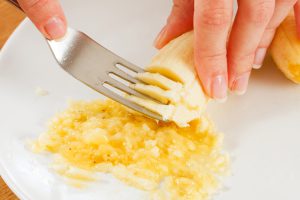 banana. It's healthier and more beneficial for your child to eat a fresh smashed banana. Buy the way; banana is an excellent fruit to start with when you're ready to introduce solid foods to your little one.
When I opened some jars of vegetable flavors, I was disappointed that it didn't smell or taste anything like real vegetables. Even worst were all the flavors with added meats. So I decided to cook my son's food myself.
Are there any rules that I should know?
It doesn't matter if you choose to make your own baby food or use the store bought version, what matters is that you know the following information:
Homemade baby food
Almost everything can be steamed, pureed, and moistened with water or broth in order to make foods your baby can and will want to eat.
Do not add salt, pepper, margarine, butter, or sweetener.
Wash, peel, and deseed both fruit and vegetables. Finely chop them, then cook until tender, puree with a blender, food processor, or mash with a fork.
Fruit does not have to be steamed, just clean it well and mash it or puree it.
Cooked fruits and vegetables can be stored safely in the refrigerator in covered containers for up to three days.
Pour prepared food into clean ice cube trays to make individual servings and freeze them. Transfer the frozen cubes to a plastic freezer bag for storage up to one month.
Never refreeze homemade baby food after you have thawed it.
Do not reheat defrosted food more than once.
Store bought baby food
Buy jarred food without chemical additives or added sugar or salt, and look for the food-to-water ratio. The first ingredient listed on the label is the main ingredient in that food. If you read water or a sweetener first, find another brand.
Combination dinners in prepared baby food are frequently less nutritious than single foods.
Check each jar's expiration date to make sure it has not passed.
Make sure that the vacuum seal is intact and that you hear the seal breaking with air rushing in when you twist open the lid. If not, discard the jar.
Do not save baby food if you have fed the baby directly from the jar. Your child's saliva can cause bacteria to grow.
Use permanent ink marker to write the date a jar was opened on the lid.
Refrigerate an open jar immediately after you're done with it.
Discard opened food after two days.
Eventually I began to use a combination of two. I was cooking vegetables and meat for my son and using jarred fruit puree from the store. I believe that parents intend to make the best choices for their little ones, depending on each individual situation. The most important factor is to instill healthy eating habits in your child, and give him/her the best chance to become a happy and healthy eater.
If you're willing to share your experiences (and I hope you are), please leave a comment below.
Thanks.