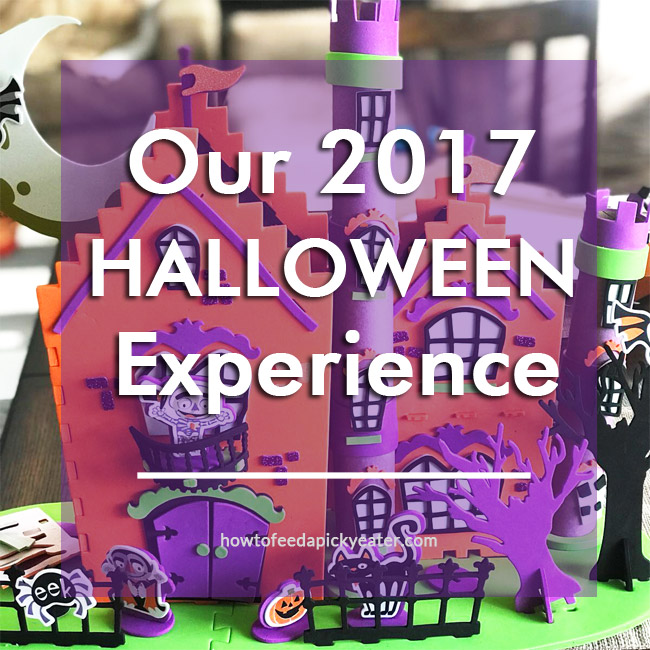 2017 was the first year we had a very interesting and beautiful Halloween. I think it happened because our kids are finally at the age when they understand the essence of the holiday. Especially our son! For the last three weeks he started every morning with the question: "Is Halloween today?"
Decorating the House
To bring the holiday closer, my husband decorated our house two and a half weeks before Halloween. Let me tell you something about my husband: when it comes to decorating for any holiday, he doesn't know when to stop!))
Every year I think: "Alright, next year we definitely don't need to buy any more stuff!" But a new year comes and my husband takes out everything we had from the year before and it's just not enough for him! He is buying more and more decorations! I have to admit that I'm proud of his work and kind of jealous of his creativity))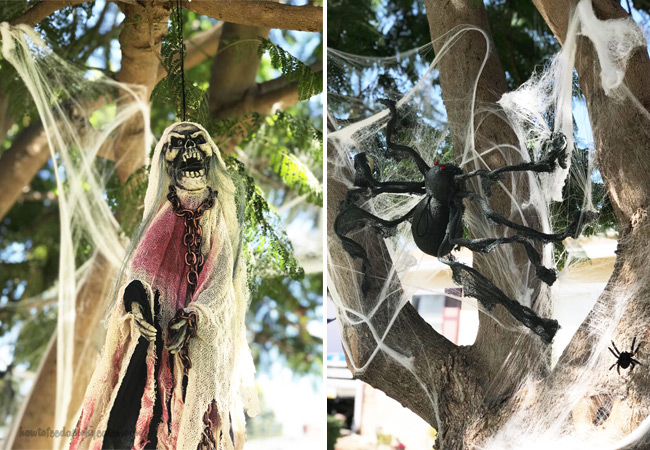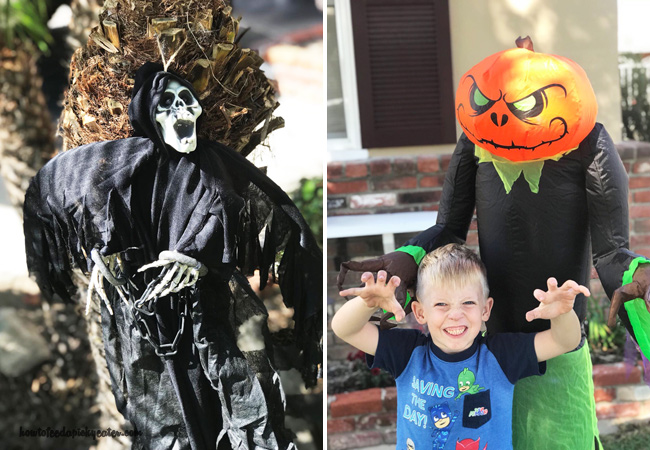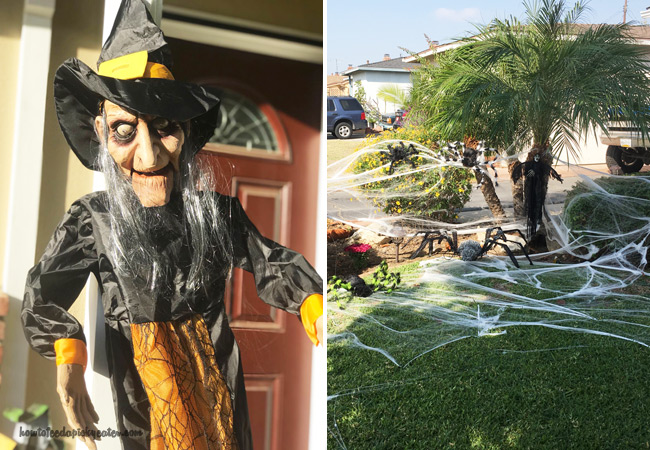 Pumpkin Art
As for me, my task is to develop our kids in a creative direction. We didn't do pumpkin carving this year, but we got pumpkin decorations like spooky sparkles, tattoos and glow in the dark paint. Our son loves to paint, so it was a perfect decision for him. It took us about an hour to do our art. At the end we had two very beautiful pumpkins and more importantly mom and son bonding time!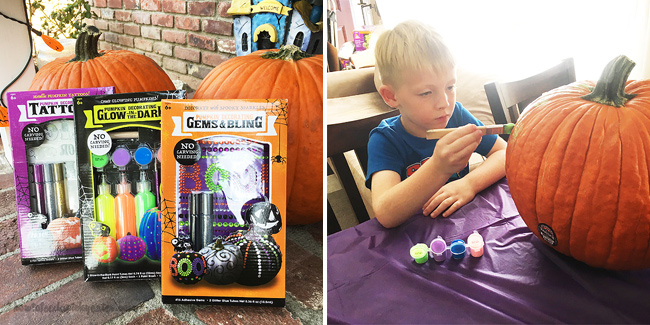 Grandmas Art Work
The kid's grandma comes over once every two weeks and every time she brings some art and craft staff to do with the kids. For Halloween she brought a very nice Halloween 3D foam structure of a castle with the hope of making it with Sean. That worked for about 5 minutes and then he lost interest. Long story short, he worked on it for 5 minutes and she worked on it for 2 hours))) The main thing that the castle turned out to be is very beautiful and grandma very happy!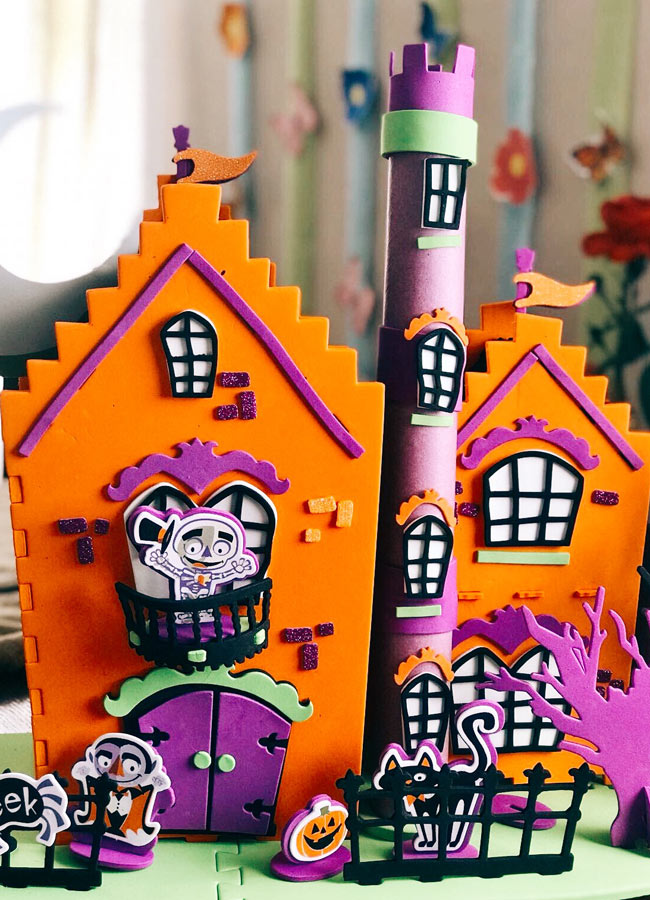 Halloween cookies
What is a holiday without baking? Especially when my son loves to help me in the kitchen. He and I make classic sugar cookies and we use Halloween theme cookie cutters. Then I made a Royal icing, colored it into different colors and again, we had a great time together decorating our cookies!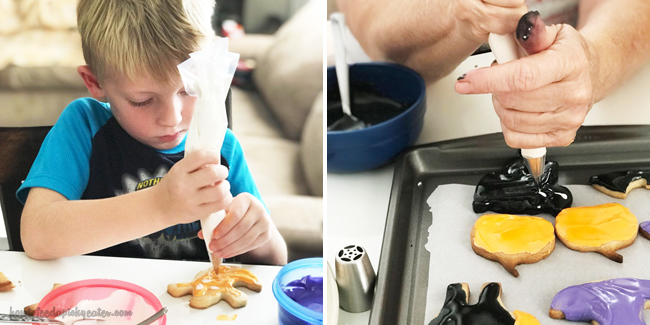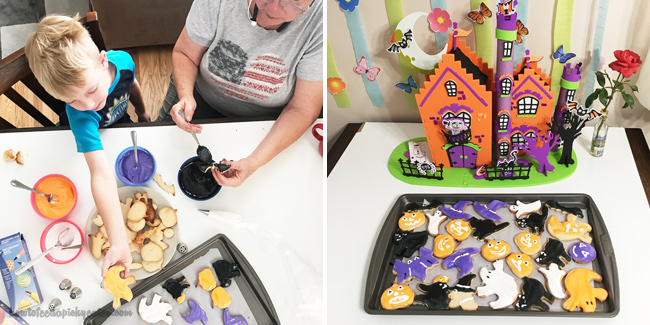 Halloween Homemade Sweet Treats
I also made another Halloween sweet treat – Halloween Black Cat Snack Bites. I wanted to make something healthier than store bought candies to give our kids and I think a did a great job!)) Small bites made of pretzels, peanut butter, banana and dark chocolate is a perfect frozen treat for Halloween!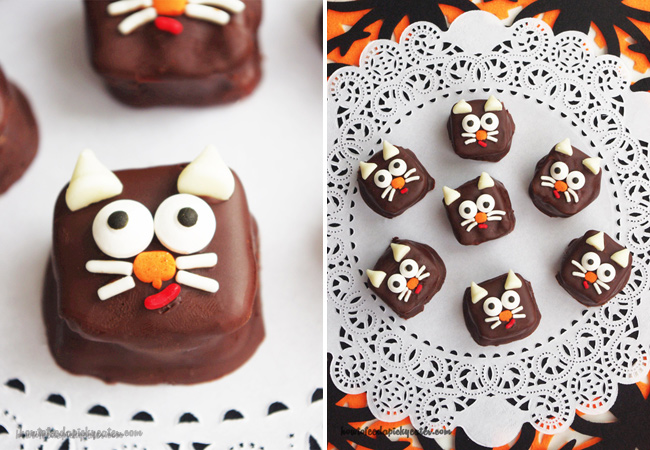 Halloween Parade
For me, the most memorable was the Halloween parade at the kid's school. Seeing all these little guys dressed up, walking, dancing and having fun is just priceless!
It was the second parade for our son and the first one for our daughter.  I was a little nervous about her, but she was excellent! She was the most beautiful Tinkerbell I've ever seen!)) She danced and smiled and was very happy!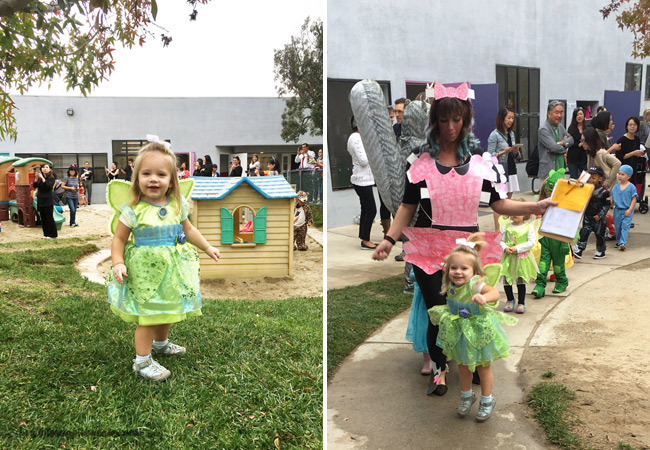 Our son was in a ninja costume and for some reason he decided that ninjas must be very serious and walk like a robot))) Every time I asked him to smile for me in order to take a picture, he made a very fake smile and it was very funny.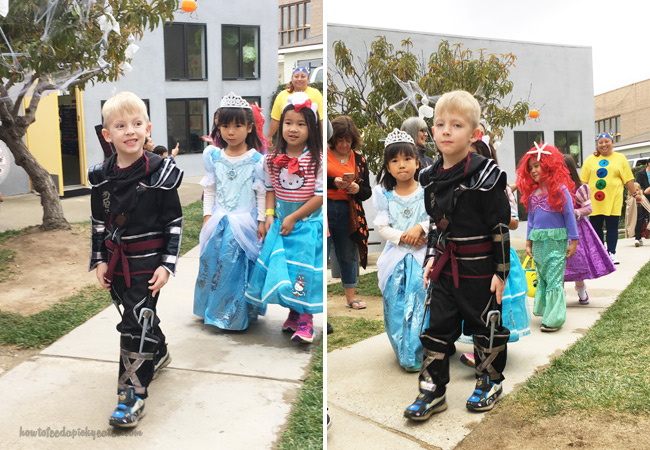 The Night
In the evening of Halloween, we all were outside in the front yard of our house. Grandma and our son were dressed up in their costumes and they went around the block to trick or treat. And the rest of us stayed and gave away a lot of candies and chocolates.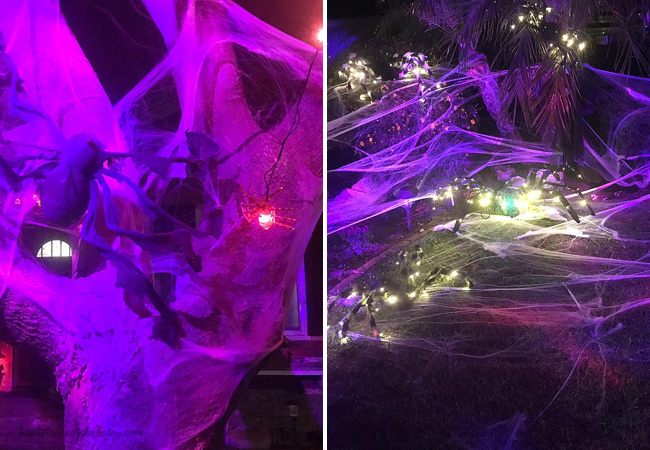 Halloween 2017 was a success!
How was your Halloween celebration?
Please, leave a comment below, I would love to hear about it!