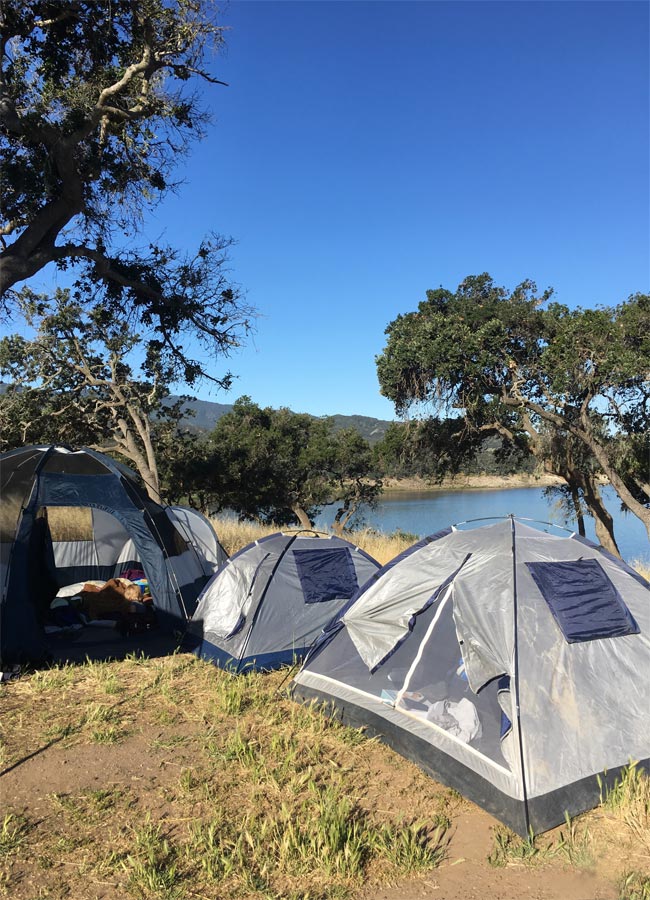 I want to share a story of two creasy parents who decided to take their kids camping at lake Cachuma California (our son is 4.5 years old and our daughter is 20 months old).  I will note that this is our own experience and maybe it will help somebody avoid our mistakes)
You will ask why creasy parents?  A lot of people like to go camping with kids…  First, our kids are super active and still little so to go with them for three days to live in a tent without an iPad or TV is not as easy as it seems.  Second, it was my first time ever camping for more than one day… Ooops!  And, third, my husband has a major back problem so to sleep in a tent for two nights was very creasy! So why did we decided to go in the first place? Because it was the weekend before my husband's birthday, because our son is obsessed with fishing and last my husband will have  back surgery very soon so this was our last chance to go camping this year.  I'll tell everything in order…
Choosing a place
California is rich in beautiful places.  For us it was very important to choose a place near water for a few reasons: to give our son his first fishing experience, have fun in the water and enjoy the beautiful sunset by the water.  My husband had great memories of him having fun on lake Cachuma from many years ago so we decided to go there.
Lake Cachuma is an artificial lake located in the Santa Ynez Valley of central Santa Barbara County, California.  Built by the U.S. Bureau of Reclamation in 1953, the name "Cachuma" comes from a Chumash village that the Spanish spelled "Aquitsumu", from the Barbareno Chumash word aqitsu'm, meaning "sign".  What my husband completely forgot was that swimming is restricted since the park opened in the 1950s, the reason is that the lake is a reservoir people depend upon for drinking water. But in May 2011, the no body contact regulation was revised to allow human-powered recreational watercraft such as kayaks and canoes on the lake as well as allow dogs on boats and eliminate "incidental body contact" with the water as a punishable offense.
To be unable to go into the water was a big disappointment for us.  Another negative factor was the water level. We reserved our camping site closest to the water.  When we got there, we found a huge drop from our site to the water.  Going down and up was really hard and dangerous, especially with the little one in our hands.  If your kids are grown enough and you don't mind some exercising I would say that Lake Cachuma is a good place to go camping on.
Set up a station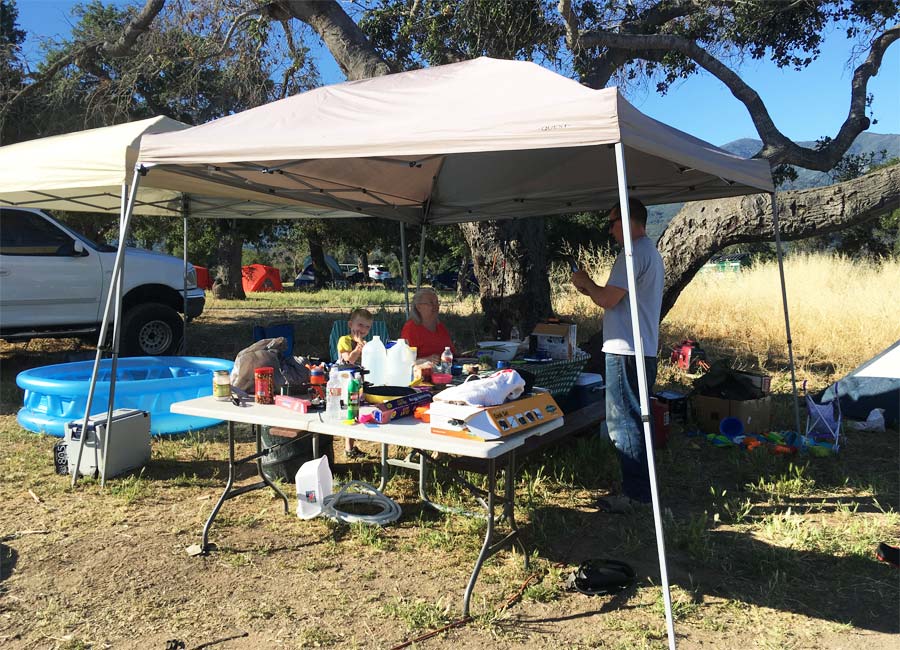 I can tell that we were not organized in setting up our station.  My husband is very experienced with setting up a tent but even he took a lot of time to do that on his own. I was running around after our kids making sure they didn't go down the drop and into the water .  So, we decided that next time we will only use an easy up tent!  We even found one on Amazon.com)))
We got to lake Cachuma around noon and almost all afternoon took us to set up the site.  There were no questions of preparing a full-fledged lunch.  Luckily, we had some cheeses, ham and spreads to make delicious sandwiches.  All those goodies we were saving in our electrical culler that can be powered by the car buttery.  We've had it for 4 years and it's very handy even on short trips and most important, you don't have to dill with melted ice.
By the end of the day, tired, sweaty and dirty we had only one wish – to take a shower.  And we did!  Lake Cachuma's camping area has showers!  For me it's a huge plus to be able to take a shower.  Just so you know, you will need to prepare some quarters. It cost 50 cents for a 3 minute shower which is plenty of time to wash down the daily sweat.
Entertainment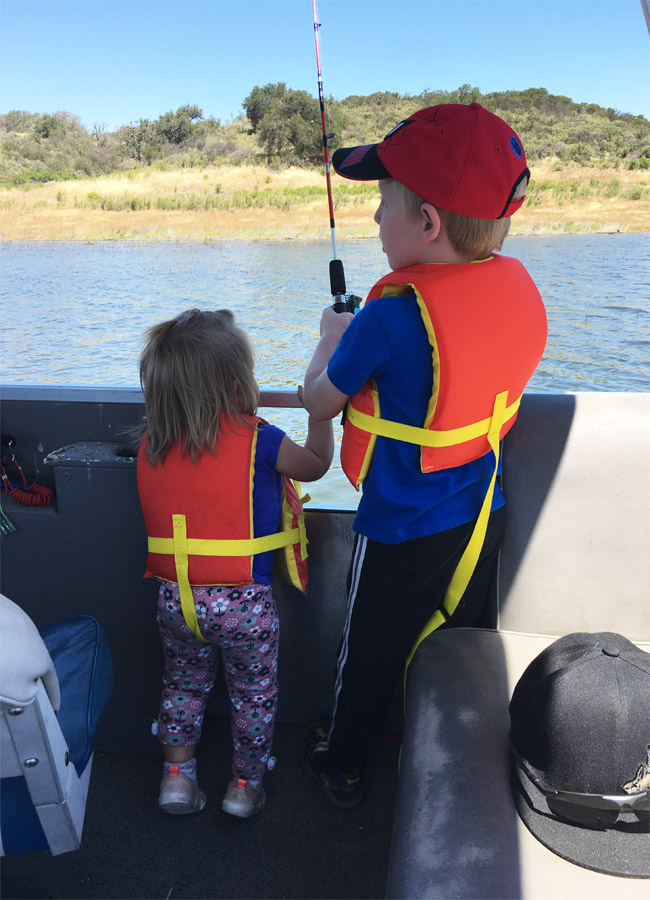 Just because you can't get into the water doesn't mean you can't get on the water.  Lake Cachuma's boat station rent's out kayaks, canoes and boats for a whole family.  That is what we did the next day.  We rented a boat for the whole day and took a water trip on the lake with a few stops for fishing.  Our son was so happy finally to go fishing and after five minutes of fishing he got bored…)))  Unfortunately, we didn't catch any fish to keep him exited.  I think that our daughter enjoyed the water trip the most!  She took a good nap being rocked asleep by the light waves.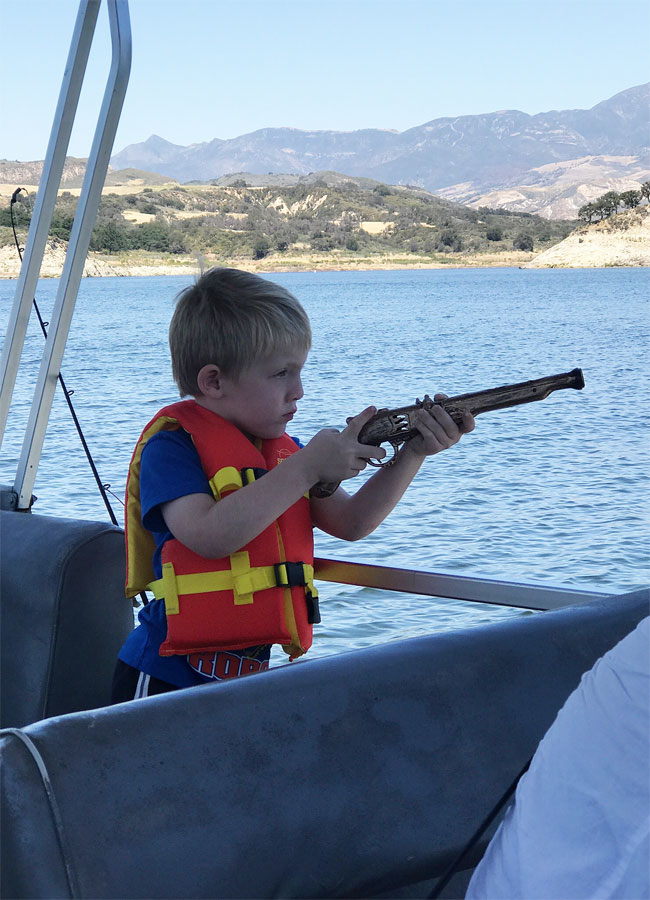 Other than fishing, if you have older kids you may enjoy playing a frisbee or even go hiking.
In the afternoon, we puffed up a small pool for kids, although the water was ankle-deep, they had a wonderful time.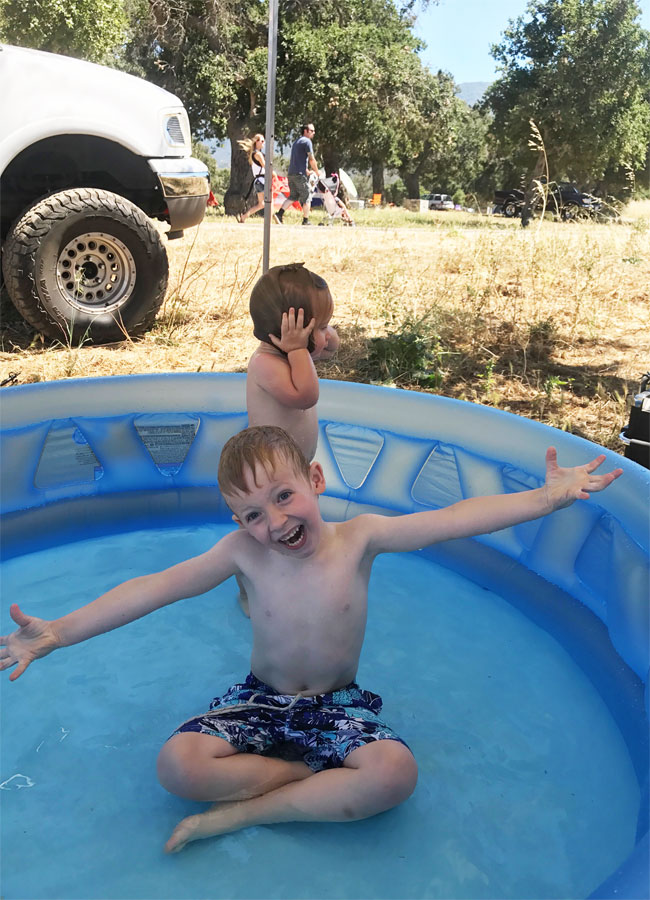 Food preparation
Attention!  Every camp site has a stone fireplace.  Please watch your kids very carefully when it's hot. 
If you have any extra space in your car, you can bring some firewood with you (that's what we did).  Don't worry if you don't have that options.  In a local store you can find everything you need to start a fire and much more.
My husband did all the cooking for us!  For breakfast, we had scrambled eggs with vegetables salad, bread with cream cheese and, of course, some coffee.  For lunch my husband barbequed some overnight marinated chicken wings and baked potatoes in the coals.  And for dinner, he made a "poike".  It's one pot dish with meat, veggies, rice and red wine that cooks about 2 hours.  He learned it in Israel while camping there.    To make this dish you have to have a cast iron dutch oven.
Camping equipment
Preparing for this camping we already had a lot of stuff like tents, sunshade, chairs, sleeping bags for adults, basically all the big stuff.  Anyway, we bought a few things that were very handy and will be for the future.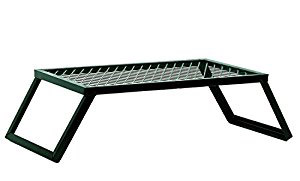 Texsport Heavy Duty Camp 24"*16" Grill – Very handy thing. Designed to handle heavy cast iron cookware, legs fold underneath for compact storage and that's how we used it to cook and to boil water in the morning.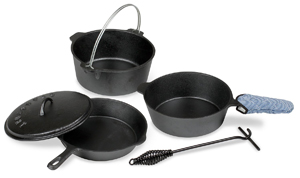 Stansport Cast Iron 6 Piece Cookware Set – Very nice set.  This cast iron dutch oven my husband used to make the "poike" and it comes with a lid lifter that allows you not to burn your hands.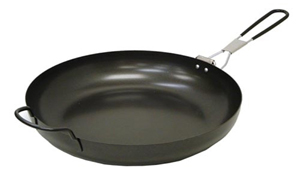 Non-Stick Frying Pan – we just got a cheap one for cooking eggs in the morning.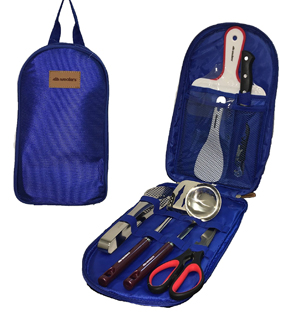 Portable Camping Kitchen Utensils Set – I loved it!  This set includes everything you need in the kitchen: knife, turn tool, scissors, forceps, scoop, cutting board, rice paddle and all of that comes in a nice, colorful case.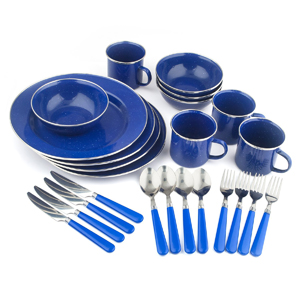 Stansport 24 Piece Enamel Camping Tableware Set – I'm not a huge fan of eating from disposable tableware, especially if I'm eating meat.  Yes, it saves a ton of time on cleaning, but I don't mind cleaning the dishes after four people.  Besides this set comes in my favorite blue color))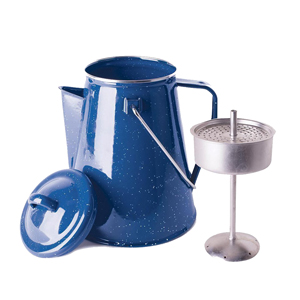 Stansport Enamel 8 Cup Percolator Coffee Pot with Basket – We love to start our day with a hot cup of coffee and camping is no different.  This coffee pot perfectly matches our new tableware set.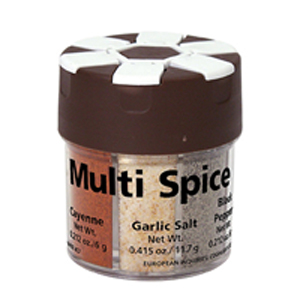 Coghlan's Multi-Grill Spice Shaker – My husband like to spice the food he is making and I like to be organized and not to lose our spices bottles.  This spice shaker combines six essential spices in one container and perfect for camping.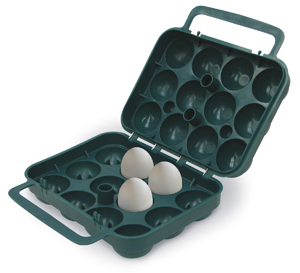 Stansport Camping 12 Egg Container – I don't like to open an egg package and find a few breaking eggs.  This strong and durable plastic that protects eggs from breakage was a great solution to save all the eggs we had.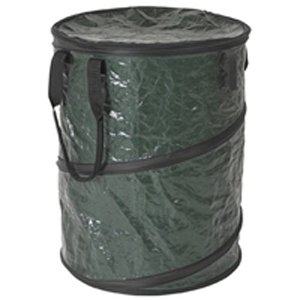 Stansport Collapsible Campsite Carry-All Trash Can – Another wonderful thing to have wile camping.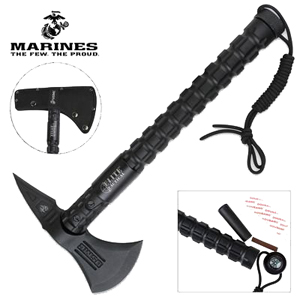 Officially Licensed USMC Elite Tactical Bruiser Survival Tomahawk Axe – This one is totally for my husband))) It's very useful to split the wood and start a fire.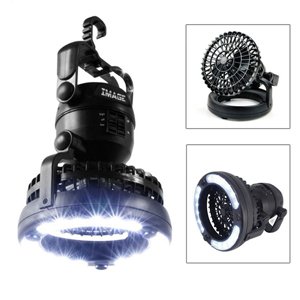 Image Portable LED Camping Lantern with Ceiling Fan – Another find of my husband.  This lantern with ceiling fan very handy at night time inside the tent, especially with kids.
It doesn't matter how well you think you prepared your always forgetting something you need the most!  We were no exception.  We forgot a lighter, yes, a lighter to start a fire!  Luckily, my husband's new survival axe has a few matches in the handle.  Another things we forgot are tablecloth, dish soup and sponge for washing dishes.  But no worries, the local store had it all.
Must haves
In my opinion, when going camping, everybody must have three things:
Sunscreen – I'm very protective of my skin and the skin of my children.  That is why I got a sunscreen with SPF 100.
Bug repellent – I don't know why, but mosquitos really like to bite me))) This magic spray was my rescue.
Drinking water – If you think you need one case of water, get four of them! Everybody drink a lot and it's very useful for cooking.
Conclusion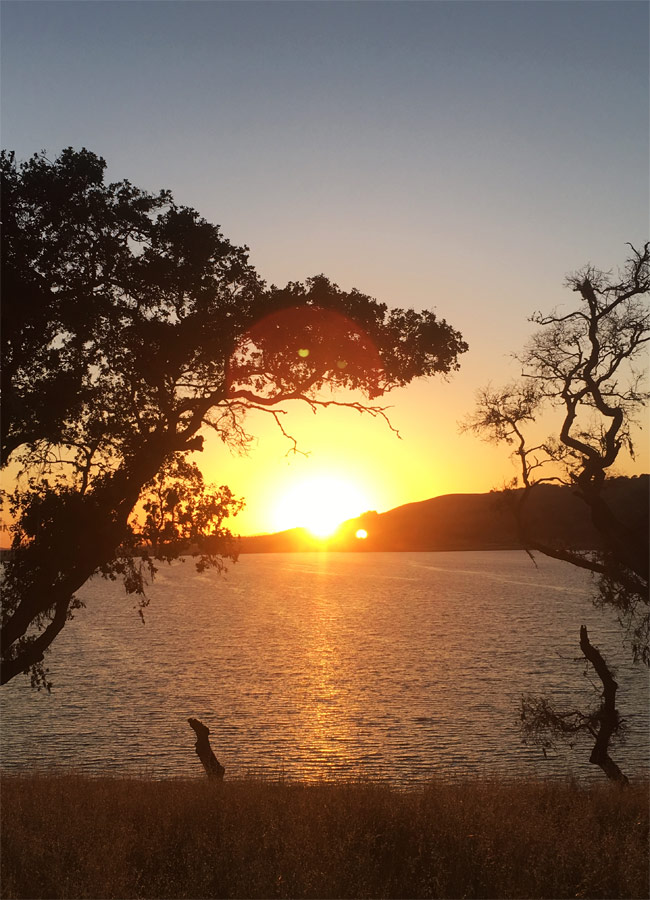 My best memory from this trip was watching the sun go down over the water. Very beautiful! Other than that, it's very hard to go camping with kids of that age.  My husband and I decided that next trip will be only when our last child is 5 years old)))  But that's only us!