Product: 5-Qtart Tilt-Head Artisan  Stand Mixer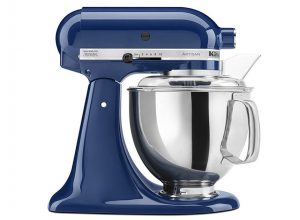 Price: $229.99 (retail) + $32.94 shipping 
Cheapest Place to  Buy: Amazon.com
Dimensions: 14.13L x 8.75W x 14H
Guarantee: 1 Year Full Warranty
My Rating: 9.5 out of 10 
The 5-Qtart Tilt-Head Artisan Stand Mixer, Product Overview
Being totally in love with cooking and baking and having kids that love being with me in the kitchen makes me a happy  owner of The 5-Qtart Tilt-Head Artisan Stand Mixer.
It makes my life so much easier every day. I got my stand mixer four years ago as a present from my husband and I have to say that this is the only mixer to have because it has so many different functions.
My 4 years old son loves to bake with me. We make cookies, cupcakes, cheese casserol and cakes. His favorite part is to make frosting (especially to lick what is left over on the Flat Beater). Once or twice a week we're trying new recipe and this Stand Mixer pretty much does the work for us.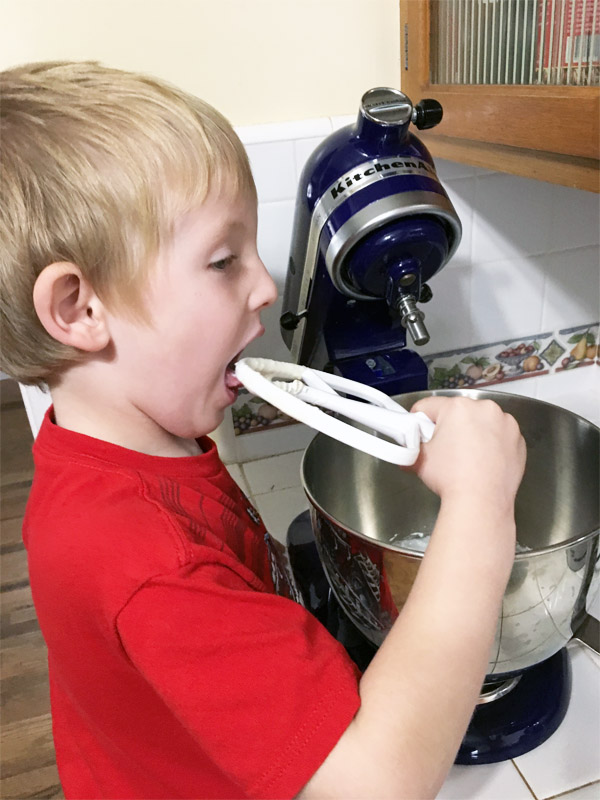 Features
The Solid construction makes this stand mixer very safe for working with kids in the kitchen. Pouring shield attachment will be the only piece of plastic you can find on it. Since this is such a solid piece of equipment, it's big and weighs 26 pounds, which I really like. (When I bake with my son, I'm not afraid to turn my back and get the ingredients we need, and have him drop the dough on the floor.)
The Tilt-Head design allows clear access to the bowl and attached beater or accessories, so we can easily add ingredients and wait for the magic to happen.
There are 10 Speeds available that give this amazing stand mixer enough power for nearly any task or recipe.  It takes minutes to mix wet and dry ingredients for any project.
59-Point Planetary Mixing Action means 59 touchpoints per rotation around the bowl for thorough mixing. I never doubt I'll get perfect dough.
A 5-Qt. Stainless Steel Bowl gives plenty of space to mix enough dough for about 100 cookies, four loaves of bread or seven pounds of mashed potatoes in one batch. In addition, I just love the big Comfortable Handle that help me maneuver the bowl when it's full of dough.
The great design of the Power Hub gives you the ability to become a culinary sheaf in the kitchen. It`s easy to make pasta from scratch, homemade sausages, freshly made juice and so much more.
The 5-Qtart KitchenAid Tilt-Head Artisan Stand Mixer has an impressive choice of over 20 different colors and the ability to make any personality happy as well as be a great match for any kitchen design.
If the kitchen is a place to relax and feel good, you may choose blue tones.
For people with bright personality, passion and desire, tones of red will be a perfect match.
For people that are naturally happy and have a lot of energy orange or yellow maybe a good choice. These colors also have very high visibility, so they can be used to catch attention and highlight the most important elements of the kitchen design.
Different tones of green will be good for people that love nature, like harmony and freshness.
For an ambitious, creative and extravagant person, purple will be a great match.
White color fits a person who loves perfection, light and cleanliness.
Black color will be a great addition to an elegant and formal kitchen.
The 5-Qtart Tilt-Head Artisan Stand Mixer comes with
Nylon Coated Flat Beater to mix ingredients for pie crusts, cakes and more.
Nylon Coated Dough Hook that mixes and knees dough with ease for pasta, breads and pizza dough.
6-Wire Whip is ideal for recipes that required infusing air, like fresh wiped cream and murine.
Pouring Shield
In my opinion, that is more than enough for a baking lover to start surprising their family with homemade goodness.
If you decide to explore your options, KitchenAid Stand Mixer has a big range of options.  By using more than 15 optional attachments, you can transform the KitchenAid Stand Mixer into many different appliances that can replace so many other appliances in your kitchen.
Care
Another big advantage is that it's super easy to clean this amazing mixer. 
The work bowl is dishwasher safe, so when it's time for cleanup there are two options available: hand-wash the bowl or put it in a dishwasher.
The flat beater, dough hook and wire whip are easily washable by hand with warm, soapy water.
The base can be cleaned with a damp cloth and dried thoroughly. That's how simple it is.
When well taken care of, this stand mixer should last decades.
In order to summarize, here are the Pros and Cons of the Artisan Stand Mixer:
Pros
Very ergonomic design
Excellent quality mixer
Super easy to use
Easy to clean
Sturdy
Kid friendly
A large attachment selection
1-year warranty
Cons
On the expensive side
Vibrates a bit when working on heavier dough
KitchenAid makes the best-known stand mixers in the world. That is because their design and functionality has been proven to work year after year. This Stand Mixer is a great choice as a present for any event.
Birthday
Wedding anniversary
Mother's Day
Christmas
or just because you love somebody very much!
Artisan Stand Mixer will be an unbelievable addition to any kitchen.
Final Thoughts
Just imagine how creative you can be reinventing all your favorite baking goodies, how entertaining it can be to spend time with your kids in the kitchen and how happy you can feel by making your family and friends happy.
I know one thing from my experience: KitchenAid Artisan Stand Mixer is a great mixer to have in any kitchen and right now the best place to invest into it is on Amazon.com
Click here to buy 5-Qtart Tilt-Head Artisan Stand Mixer